Hey Guys,
A few weeks ago I was nominated by the lovely
Emma
for the Versatile Blogger Award thanks for that my dear!
It has taken me ages to finally get around to doing it but it is finally here!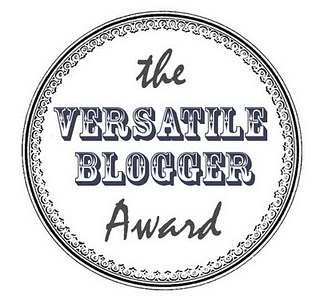 The Rules
Thank the person who nominated you for the award.
Tell the person who nominated you 7 facts about yourself.
Select and nominate 15 blogs that you have recently discovered for the award.
My 7 Facts About Me
I have a weird obsession when it comes to tea. I literally drink it all of the time.
If you name a TV I have probably seen it.
I love to collect tickets from exciting things I have done whether it is a concert ticket or just a boat ticket from a fun day out!
My liking of Taylor Swift is starting to go into the extreme category and I'm not sorry at all.
I cut my hair not long ago and hated how short it was but now I want it even shorter!
I've recently been told that I don't suffer from a panic disorder but possibly something else after years of them telling me that I suffer from Anxiety.
I have to carry a book with me everywhere even if I'm going to hang out with friends.
Blogs I Nominate
So I couldn't come up with 15 blogs because well that is an awful lot but ah well....
And I think that is all I have to do! I hope you have enjoyed learning a little bit about me and I definitely think you should check out the blogs that I nominated!